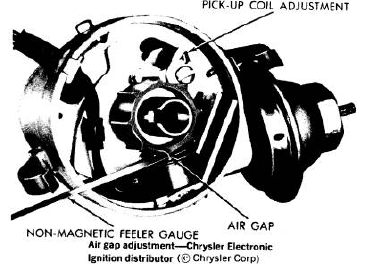 Align one reluctor tooth with the pick-up coil tooth.
Loosen the pick-up coil hold-down screw.
Insert a 0.008 in. (0.006 starting 1977) nonmagnetic feeler gauge between the reluctor tooth and the pick-up coil tooth.
Adjust the air gap so that contact is made between the reluctor tooth, the feeler gauge. and the pick-up coil tooth.
Tighten the hold-down screw.
Remove the feeler gauge.

NOTE:
No force should be required in removing the feeler gauge.

Check the air gap with a 0.010 in. (0.008 starting 1977) feeler gauge. The gauge should not fit into the air gap.

CAUTION
DO NOT FORCE THE FEELER GAUGE INTO THE AIR GAP.

NOTE:
Lean burn engines through 1977 (first generation system) have two pick­up air gaps. The gap is .008 in. for start, and .012 in. for run. The second generation system has only one distributor pick-up.

Apply vacuum to the vacuum unit and rotate the governor shaft. The pick-up pole should not hit the reluctor teeth. The gap was not properly adjusted if any hitting occurs. If hitting occurs on only one side of the reluctor, the distributor shaft is probably bent, and the governor and shaft assembly should be replaced.