Mopar Charging Systems - Through 1969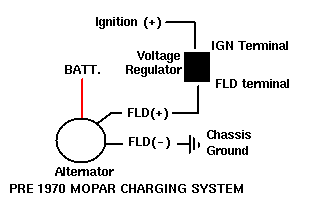 The Pre 1970 Mopar Charging System Diagram shows the basics of the early alternator / voltage regulator (VR) design. There are 2 brushes in the alternator, each one has a field terminal, one is labeled "FLD", the other is labeled "GND". The GND brush is grounded with the brush mounting screw. the other brush is the (+) brush (or field) and attached to it is a green wire that routes over to the Voltage regulator (which is behind or near the brake master cylinder) this green wire is connected at the voltage regulator at the "FLD" connection (with a screw). The other connection on the Voltage Regulator is a blue wire with a female plug end. This is the "IGN" Ignition side. Basically, the Voltage Regulator completes the charging circuit and allows the alternator to charge the system. When a certain voltage is obtained, the regulator "opens" (or turns off) the circuit until the electrical system's voltage drops, then it completes the circuit again. The old Voltage Regulators are repairable and rebuildable. The 1969 Dodge Shop manual (available from a number of vendors, including Year One) details how to do this. If you think your regulator is failing, open it up and clean the "points" with some emory paper (sometimes these points get corroded).
NOTE: In the Pre 1970 Mopar Charging System Diagram, the FLD is generally green, and the IGN wire is Dark blue on stock wirinig harnesses.
Mopar Charging Systems - 1970 and Later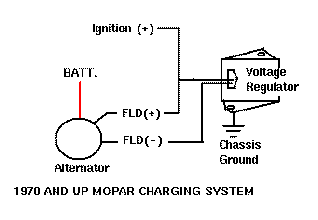 CAUTION: The Mopar 727 transmission does not circulate transmission fluid through the transmission when the transmission is in PARK. Do not leave the engine running in PARK for extended periods in order to recharge the batteries.
In 1970 Mopar switched from an analog type voltage regulator to a transistorized regualtor. The basic circuit is completely different. Before the voltage regulator monitored the (+) ignition voltage and opened/closed the (+) Field circuit as needed to maintain a steady voltage. The 1970 design, instead, monitored the (+) field voltage and open/closed the (-) ground field as needed to maintain a steady voltage.
Year/Configuration
Altenator
Voltage Regulator
1969 46 Amp
2098850
NAPA: NAE 67008
Bosch: AL502X
Wilson: 90032005
2444980
Echlin VR34
1969 60 Amp
w/3" Dbl Groove Pulley
2444898
NAPA: NAE 66003
Bosch: AL502X
Wilson: 90032034
2444980
Echlin VR34
1970-71 46/50 Amp
w/2-3/4" Dbl Groove Pulley
3438165
NAPA: NAE 66003
Bosch: AL502X
Wilson: 90032034
3438150
Echlin VR38
1970-71 60 Amp
w/2-3/4" Dbl Groove Pulley
3438168
NAPA: NAE 66003
Rayloc: 2132007
Wilson: 90032034
3438150
Echlin VR38
1972-73 60 Amp
w/2-3/4" Dbl Groove Pulley
3438846
NAPA: NAE 66003
Bosch: AL502X
Wilson: 90032034
3438150
Echlin VR38
1973 60 Amp
w/2-1/2" Sngl Groove Pulley
3/8" Belt w/440
3438807
NAPA: NAE 66268
Bosch: AL502X
Rayloc: 132010
3438150
Echlin VR38
1974 60 Amp
w/2-3/4" Dbl Groove Pulley
3/8" Belt
3780589
NAPA: NAE 66269
Bosch: AL502X
Wilson: 90032031
3438150
Echlin VR38
1975 60 Amp
w/2-3/4" Dbl Groove Pulley
3/8" Belt
3780589
NAPA: NAE 66269
Bosch: AL502X
Wilson: 90032031
3755960
Echlin VR38
1976 60-63 Amp
w/3" Dbl Groove Pulley
1/2" Belt w/318/360
3874729
NAPA: NAE 66003
Bosch: AL502X
Wilson: 90032034
3874520
Echlin VR38
1976-77 60-63 Amp
w/2-3/4" Sngl Groove Pulley
1/2" Belt w/440
3895641
Bosch: AL502X
Pridemark: 20153
Rayloc: 2132022
3874520
Echlin VR38